Social Monkee Review – Social Backlink To Diversify Your link Profiles
Review On Social Backlinking Tool Called Social Monkee
To be honest, the internet is already saturated with internet marketers, especially if you are to see it from an American's point of view. Unless if you are aiming for less competition, it is either you market a unique or new niche or market on less saturated region in the world. Unfortunately, joining the fray is a much easier option than the latter options. Easier? How can it be possible? Well, it can be if you know and use the right tools to dominate or overcome your competitors. One of the tools that can be right on the spot with that task is Social Monkee.
What Is Social Monkee?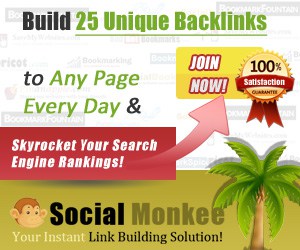 By the way, what is Social Monkee? Despite its name, it is not purely a social media tool. Social Monkee or Social Monkey (for those who are always typing its name wrong) is a social link building and backlinks building tool. It promises the possibility of you gaining more visitors and online exposure. But can it deliver them? If you want to know, continue reading this short Social Monkee review.
Functions and Features
The primary function of Social Monkee is to generate quality backlinks for you semi-automatically – even if you have no clue on how to do link building. Every day, you will be able to submit a web page to the system. After that, Social Monkee will build backlinks –25 backlinks to be precise based on the lowest level subscription. If you do the math, you will be able to have 750 backlinks a month. If you do that manually, you will lose a lot of time, and you will surely be deadbeat once you are done. Aside from saving your time from posting backlinks all over the web using the traditional link building methods, Social Monkee will also track and provide you reports for every backlink that will be created. With the report, you will be able to know if those social bookmarking backlinks had already been indexed or not by the search engines. You can also manage your account through accessing your browser alone. There is no need for you to visit the website and login. If you install Social Monkee's plugin for Chrome or Firefox, accessing and managing your backlinks has never been easier.
3rd Party Spinner Integrated
Aside from its quality link building capability, you will also be able to take advantage of its handy rewriting feature by integrating with 3rd party spinning tools like Spin Rewriter and The Best Spinner. With a single click, you will be able to generate a unique article from your old one. Using this tool will save you hours of rewriting and will give your backlinks more credibility and variation. Of course, there is no perfect spinner, and Spin Rewriter and The Best Spinner are no exception. Nevertheless, it will reduce the amount of time and text that you will need to rewrite.
Indexer Integration
Link Pipeline and Backlinks Indexer are also integrated with Social Monkee in helping to index all the quality backlinks that had been generated. This is not provided for free as you will need to have an active subscription with the index tools. Nonetheless, this is provided as an option for you to use if needed.
How to Buy Social Monkee?
Well, getting this tool is not a difficult task. Where to buy Social Monkee? All you need to do is visit Social Monkee's website. Fill up the form on the front page (it will require your name, email address, and password for your account). After that, get your credit card ready (the site accepts Visa, MasterCard, and Discover). The lifetime membership fee costs $7. Back then, it cost $27 (that is a $20 savings mind you). In case you are scared of being disappointed with the service, do not be. The site offers a 60-day money back guarantee that will secure your investment. On the other hand, do not worry about getting SPAMs in your email. The site guarantees that it will not trade nor sell it to other companies or entities.
Conclusion On Social Monkee Reviews
Fortunately, the reviews on Social Monkee are mostly positive. Most of the reviews sound authentic, and it is surprising that it was difficult to find any mudslingers posting detracting articles about it. Aside from that, it has an excellent web presence, which makes it easier for people to know and research about the tool. If you do not know how to build backlinks or if you want to get quality backlinks fast, this is the tool for you. Does Social Monkee work? The answer to that is a big YES but to really achieve a great result then it will be best to use a variety of tools to building quality backlinks like Kontent Machine to generate unique contents, Web Fire and FCS Networker to build other types of backlinks to diversify the overall backlink profile. Try out Social Monkee now and experience all the benefits that were listed in this review. If you want to lessen its impact to your budget, you might want to check to see if there's any Social Monkee coupon code or discount code available. With this tool, building backlinks has never been this easy!